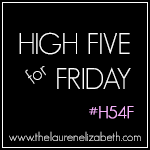 Happy Friday! I hope everyone is doing great. This week flew by (3-day weekends tend to due that). I can't believe we are in the home stretch of February. Crazy how time flies! Anywhoo, here are my highlights of the week…
I tried Dutch Bros Iced Chai and Wowza! It was amazing. I keep thinking about it and how I need more. Yum!
Teddy got a new bed and loves it. Doesn't he just look adorable? So cute.
I finally found the perfect black shoes for me! They are Aeresoles, have a flower, a little wedge, and are black. Love, love, love them!
I love AZ right now(Minus the political drama). The weather is perfect. Plants and trees are blooming. This metal artwork depicting the mountains with a cactus in front of it screamed "Arizona!" to me.
And to top my week off… My Birchbox came! I love mail on Birchbox day. There are some old lady creams, perfume, and hair products tucked in this months box. I cannot wait to try it all. Good times people.
Well, I hope you have a fantastic weekend planned and enjoy the heck out of it. Let's wrap up February 2014 in style next week. Happy Friday